Campaign Strategy & Execution
Data driven campaigns. The future is now.
We transform the industry landscape by leveraging on scientific approaches to address complex communication challenges. Data science and the evolution of computing technology allow cost effective campaigns to be executed, yielding real results with measurable outcomes.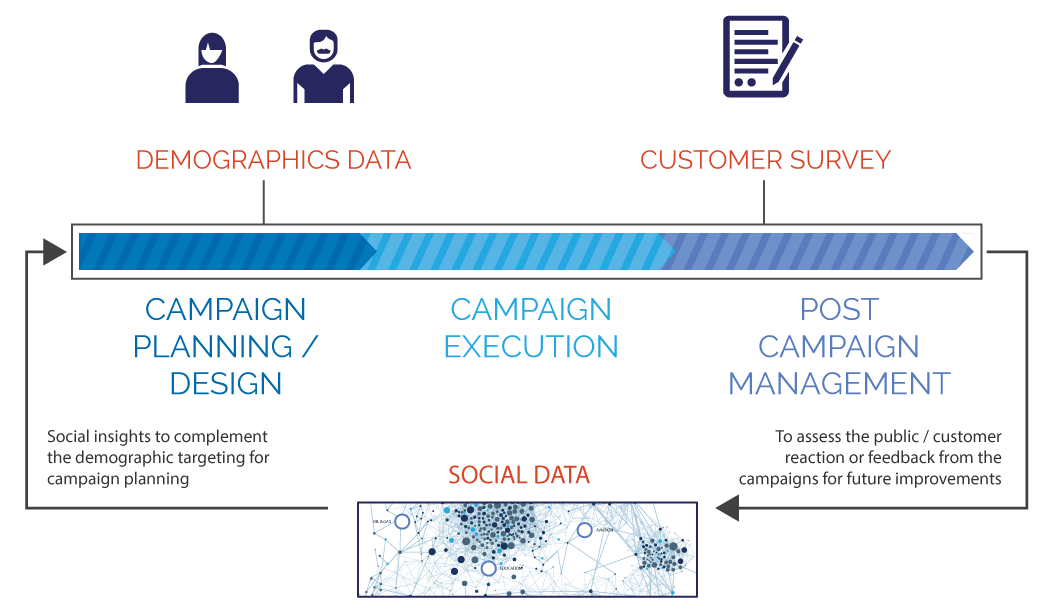 An Outcome Focused Strategy.
We pride ourselves as being different and independent from traditional agencies. Our data-driven approaches produce an outcome focused strategy that is pragmatic, impactful with measurable outputs (e.g.: Likes) and outcomes (e.g. sales).
Optimize Your Social Media Assets.
And Save.
Deliver the most cost effective engagements through your social media assets. From social media account management to digital advertising campaigns, we optimise your resources to deliver expected targets. We execute and let you save.
Predict Consumer Behaviour.
Then Act.
Predict consumer purchasing behaviour or measure consumer confidence level through social data, sales data and other data sets. This is a fresh approach that allows companies and organisations to monitor and perform proactive measures.
Measure Consumer Satisfaction.
And Smile.
Analyse consumer satisfaction through social analytics after your campaign ends. We deliver insightful reports and analysis using large social media sampling. This is a cost effective method to assess your campaign effectiveness, or to complement the traditional questionnaire based survey method.
Measure Perception.
It is the New Reality.
Perception towards a brand or product should be measured consistently. Our team of data analysts will provide weekly, daily or monthly insights to you. Our sentiment algorithm engine can predict with a high degree of accuracy conversations in multiple domains and in unique situations (e.g.: dual language, dialects, nuances).