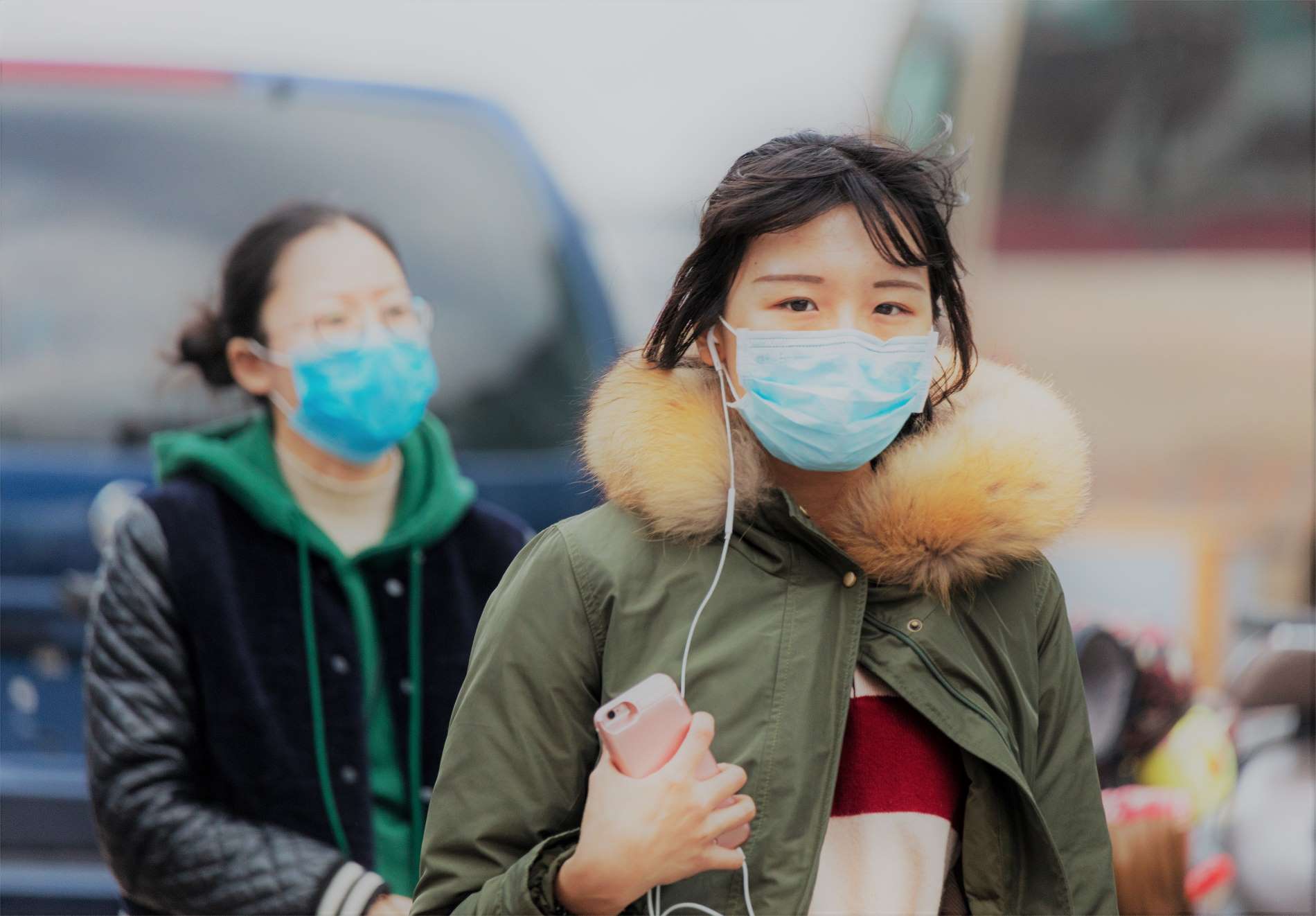 As Malaysia entering the 3rd phase of COVID19 lockdown with stringent movement control order and extension of MCO, people are beginning to adjust to the new norm. Online activities such as social media interactions, chats, video-calls, online-meetings and online shopping have reached record high. We spend longer time online than ever before.
However, research has shown prolonged exposure on social media can cause serious mental health issues – from an increased risk for depression, anxiety, loneliness, self-harm, and even suicidal thoughts.
A new report found that the mental health during this pandemic is affecting everyone – with 32% of people polled reported that worry and stress about coronavirus had a negative impact on their mental health. Two weeks later in late March, this number had risen to 45%.
Are Malaysians exposed to such mental health risks due to growing uncertainties from what we see on our timeline? Or are we resuming our daily activities at home during lockdown and adjusting to this new norm?
We seek to understand consumer interests and behavior from social media data during the Movement Control Order (MCO) lockdown.
As domestic consumption drives more than 50% of Malaysia's total GDP, the goal is to provide better insights into consumer behavior during this unprecedented time.
Our team of analysts examined weekly sentiment trend based on 3.9 milion social media data across 8 different platforms / channels. The conversation covers social media Facebook posts, tweets, mainstream news, forum posts, news aggregator and others.
This is the single largest topic (in terms of volume) that we have analyzed in a span of 20 days (from 16th March until 6th April 2020).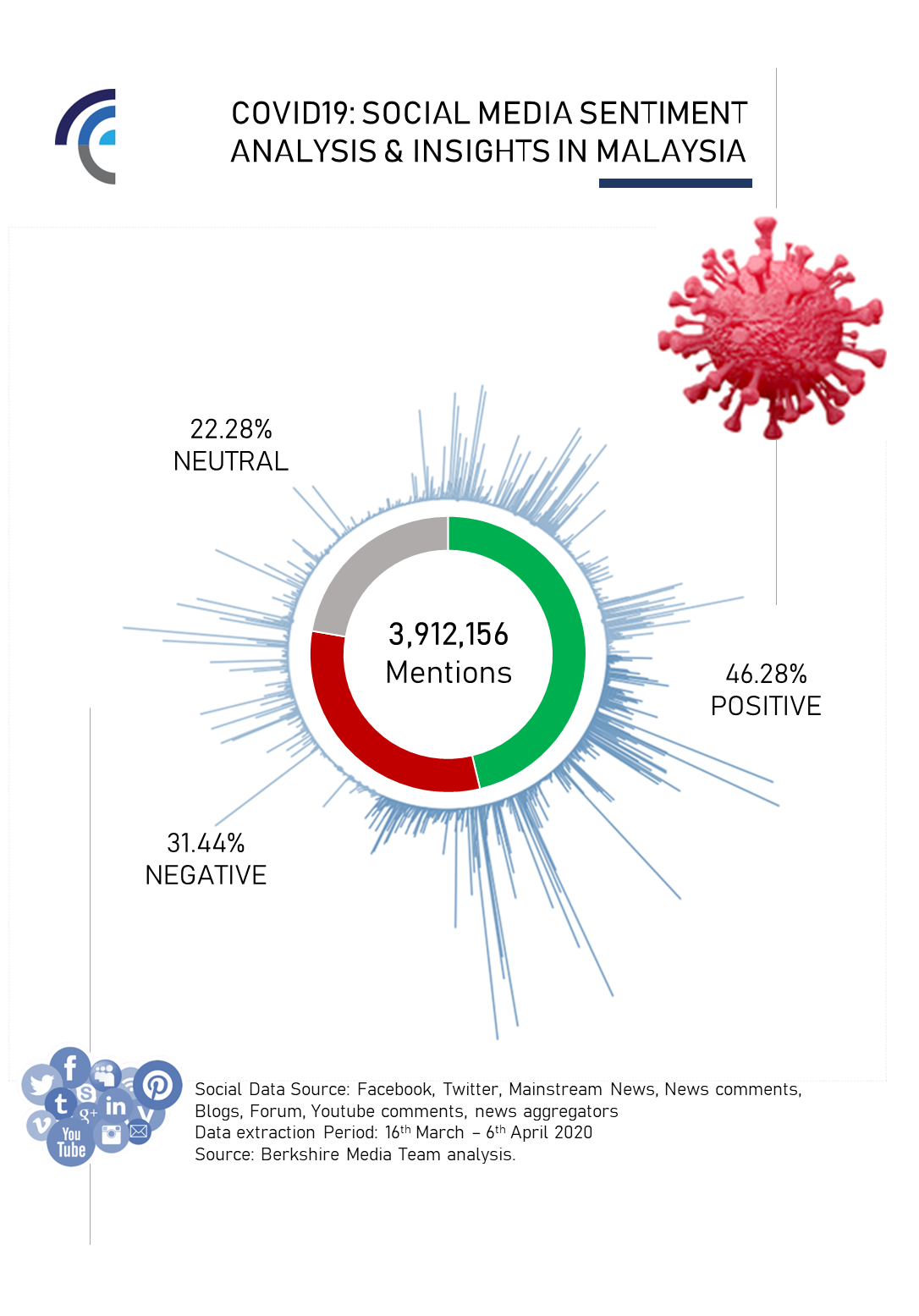 We utilize advanced data cleaning and machine-learning using our proprietary text algorithm to deliver better insights. Learn more about our sentiment analytics approach to analyze sentiment in multiple languages here.
We took a sample of 1.78 million data related to socio-economic topics and here are the insights from conversations from netizens. These are public data extracted from common social-media monitoring tools found in the market.
Public uncertainty on job stability, concerns on disrupted income flow, financial impact on mostly B40 employees in the service and manufacturing industries.
Comparisons between various companies' policies, feedback regarding salary cuts between companies in various sectors (B2B vs B2C) and status (Bumiputera companies vs MNCs).
Feedback on sufficiency of the economic stimulus package in filling the income gaps suffered by job losses by economic experts and public alike – confusion on the eligibility of the aid for SMEs.
Public backlash upon high-profile entrepreneurs who expressed concerns for sustainability of their SME businesses, which drew ire from netizens due to the "ironic" nature of their complaints in view of these public figures' lavish lifestyles.
Conversations seeking help in finding part-time/temporary income within the MCO period.
Active sharing of posts advertising job vacancies
Heightened sensitivity/empathy in conversations related to supporting fellow Malaysians' small businesses.
Discussions on whether it was appropriate that celebrities demand targeted funding/aid for themselves, due to their work disruptions.
Complaints on some companies not willing to apply for the salary subsidies for employers despite their employees being forced to go on unpaid leave.
Postings making light of video calls/conferences with colleagues.
Reports on compromised confidential Zoom online meetings, leading to discussions on internet security.
What to Expect:
Companies experiencing downtrend pre-crisis due to global economic slowdown are severely hit. Compounded by uncertainties in selected industries, unemployment may continue to rise despite the stimulus package. Companies tight on cash will reduce office space and infrastructure with new policies in place for greater work flexibility. 
Complaints on how stocks for most items and essentials are quickly sold out online.
Rise in food companies offering home delivery options in adapting to the change in demand and MCO restrictions.
Netizens' posting on their tendencies to overeat at home, doing experimental cooking, while some complained on the exhaustion of cooking for family members.
Large online buzz on raw items such as meat, chicken, bread and eggs being hoarded by shoppers in supermarkets leading to a large supply shortage.
Outpouring of appreciative messages and actions to support food delivery riders rushing to keep up with demand.
What to Expect:
Online shopping habits continue to grow in the next 6 to 12 months. Negative impact on small retailers and mall operators may force digital innovation and a greater push for e-Commerce agenda. Overall consumer spending on essential items remains robust. We expect more stringent control price related to essential goods.
Some unhappiness on the government's initiative of allowing RM500 to be drawn out from EPF holders' own accounts.
Public initiative in pooling funds to contribute to the less fortunate and frontliners.
Netizens expressing relief at the utility bill discounts offered by the government.
Positive feedback from the RM500 one-off cash aid in the BPN initiative, despite some complaints by some members of the public on their ineligibility.
Conversations on deliberating between taking up the moratorium offered by banks on personal/housing/credit card/car loans, and some questions seeking clarity on the terms and conditions.
What to Expect:
Consumers will spend less on non-essential items and focus on personal savings in the next 3 to 6 months. The automotive sector will be severely impacted as consumers might not purchase or upgrade to new vehicles. Read more here
Tertiary students and education professionals' complaints on the difficulties of online learning from home – either due to lack of internet accessibility in rural areas or lacking infrastructure, distractions or hindrance to group work requirements.
Postings from parents expressing their frustration with home-based learning (HBL) due to the various IT/system compatibility issues and time needed to be spent on HBL.
Increased postings from parents expressing empathy and appreciation for educators who have been putting up with the challenges of teaching young children on a regular basis.
What to Expect:
New learning innovations such as e-Learning will emerge – driven largely by private universities and institutions as parents are adapting to the new teaching methods. Public sector education changes will be seen in smaller but gradual steps with the adoption of TV-learning approach to penetrate rural areas.
Some conversations warning about the risk of contagion with increased online shopping and parcel deliveries.
Netizens expressing their boredom and impulse buying tendencies.
Backlog in deliveries experienced by various logistics companies (Shopee, Lazada, J&T Express, PosLaju).
Public complaints of delayed deliveries, unknown statuses of parcels, and unresponsive logistics companies.
Complaints of predatory selling practices and inflated prices of essentials such as masks and sanitisers.
Positive feedback from the public on the government's stance to impose ceiling prices on masks.
What to Expect:
Online shopping habits continue to grow in the next 6 to 12 months. Negative impact on small retailers and mall operators may force digital innovation and push for e-Commerce. Overall consumer spending on essential items remains robust. Expect to see advanced supply chain optimizations. (e.g. multiple shops bundling deliveries to the same household or street). 
6. Faith & Religious Practices
Increase in encouraging postings spreading hope and positivity towards the likelihood of the pandemic being eradicated with time.
Mass prayers organised on particular dates from the public's own homes.
Criticisms towards members of the Tabligh group and the church attendees who were accused of being irresponsible in spreading the Covid-19 despite restrictions to gatherings.
Postings reminding the public on the importance of logic, reasoning and civic-mindedness in a time when material wealth and social status makes little difference in health risks in an aggressive pandemic.
Netizens expressing how much they miss visiting their places of worship.
What to Expect:
Social polarization will continue to exist due to different beliefs, albeit to a much lesser extent. Mosques, temples, and churches will be recording fewer visitors and flexibility will be exercised in the next coming months.
7. Family & Relationships
Concerns on the mental and physical wellbeing of communities-at-risk, such as the women and children in abusive families, and elderly living alone.
Trend reported on rise of divorce cases due to increased stress in the household, primarily due to financial strain.
Netizens expressing how much they miss their families/parents/children abroad or in different states.
Concerns on whether Ramadhan and Hari Raya 2020 experience will be hampered by the possibility of an extended MCO.
Netizens spreading positive messages on spending quality time with family members.
What to Expect:
Greater use of social video-calls – particularly Skype, Zoom and Google Hangout to keep families together. 
Conversations on ease or difficulties of working from home from the perspectives of parents with children, or adults with elderly or family members with special needs.
Parents facing financial strain in continuing payments for childcare services during the MCO period due to salary cuts and loss of jobs.
Few large childcare companies announced payment exceptions for families facing financial difficulties.
What to Expect:
Less dependency on 3rd party childcare services as consumers tighten their belt. Innovations such as hyper-localized community-based childcare and app-based nannies will serve as a good alternative.
9. Health Fitness & Personal Care
Criticisms of the Mont Kiara joggers and Penang doctor jogging in a park despite the MCO.
Conversations, posts and initiatives by fitness trainers, enthusiasts and companies such as Milo, in conducting group online exercising sessions.
Netizens' postings on how they desperately require barber services, and how their levels of personal fitness have declined due to MCO.
Concerns on how long the pandemic would take to be eradicated and the risks on personal health if MCO was to be lifted soon.
Large outpouring of appreciation posts directed to medical professionals and frontliners for their sacrifices in fighting the pandemic.
Shares of online panel discussions with medical professionals and Ministers on how preparedness and effective messaging is the key to how the public would be able to cope with the "new normal" on social distancing, which would impact adaptability issues and changes to cultural norms (such as the actions of kissing the hands of elders), post-MCO.
What to Expect:
Growing number of health-conscious consumers due to increased awareness of COVID19. Demand for healthcare will remain robust, aligned to global consensus. In-house gyms will be seen as the preferred choice as consumers may avoid visiting members-only gyms or public parks. This change in behavior may have a negative impact on private health and fitness operators.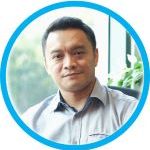 Shahid Shayaa is the founder and managing director of Berkshire Media. He is on a mission to drive data-driven insights and communication strategies for companies. Specializing in machine learning text algorithms, he publishes various scientific papers on social media analytics to better understand consumer sentiment, emotions and behaviour for marketers and campaign managers.
Disclaimer: This information published by Berkshire Media Sdn. Bhd. is for information purposes only and should not be regarded as providing any specific advice. Recipients should make their own independent evaluation of this information and no action should be taken, solely relying on it. Whilst this information is believed to be reliable, Berkshire Media makes no representation or warranty (express or implied) of any kind, as regards the accuracy or completeness of this information, nor does it accept any responsibility or liability for any loss or damage arising in any way from any use made of or reliance placed on, this information.
This report may contain forward looking statements which are often but not always identified by the use of words such as "anticipate", "believe", "estimate", "intend", "plan", "expect", "forecast", "predict" and "project" and statements that an event or result "may", "will", "can", "should", "could" or "might" occur or be achieved and other similar expressions. Such forward looking statements are based on assumptions made and information currently available to us and are subject to certain risks and uncertainties that could cause the actual results to differ materially from those expressed in any forward looking statements. Readers are cautioned not to place undue relevance on these forward looking statements. Berkshire Media Sdn. Bhd. expressly disclaims any obligation to update or revise any such forward looking statements to reflect new information, events or circumstances after the date of this publication or to reflect the occurrence of unanticipated events. Unless otherwise stated, any views, data, forecasts, or estimates are solely those of the Berkshire Media Sdn. Bhd. as of this date and are subject to change without notice.